MenLiving invites A Special Guest: Cathy Adams
mon12apr7:00 pmmon8:15 pmMenLiving invites A Special Guest: Cathy AdamsCome join Us!7:00 pm - 8:15 pm(GMT-05:00) View in my time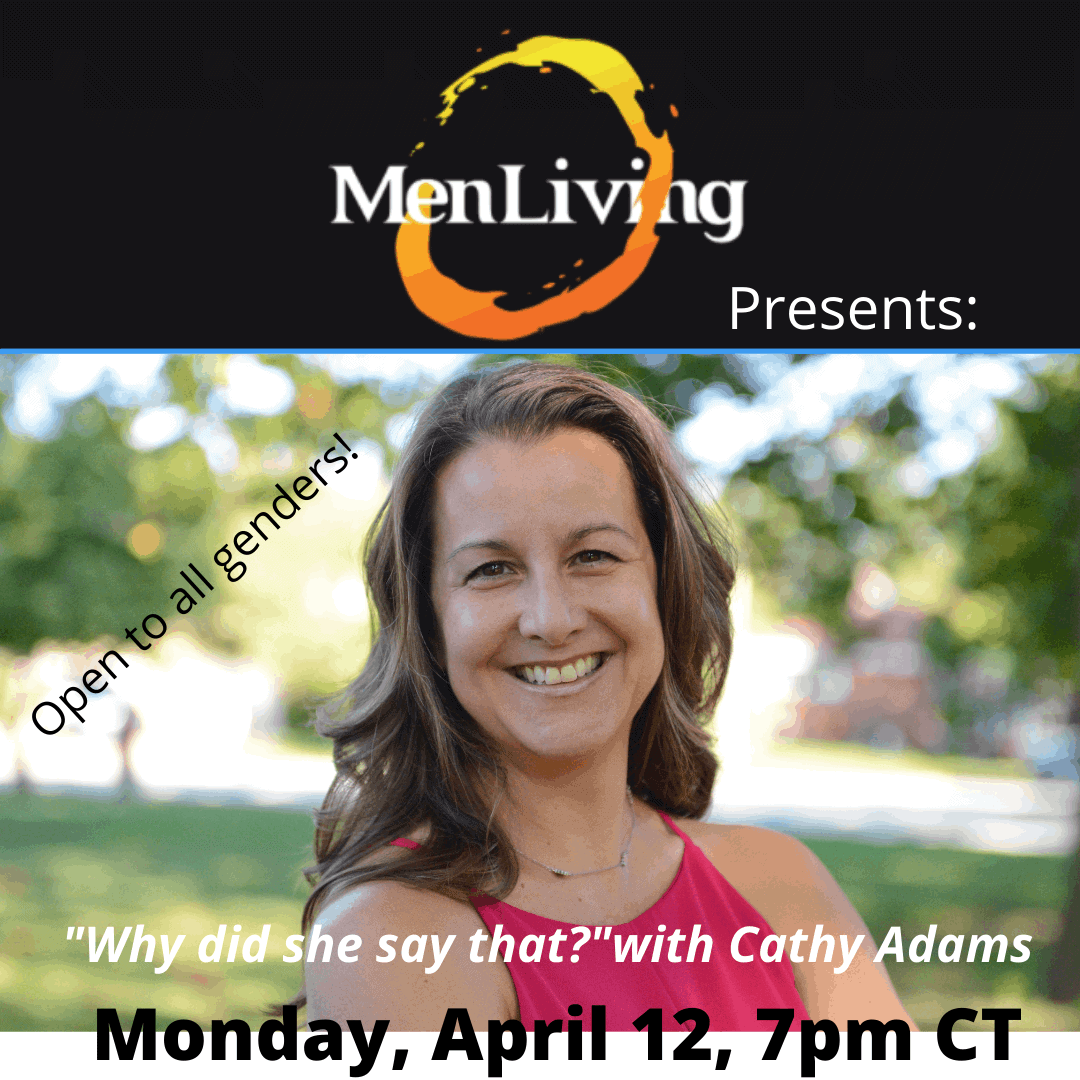 Event Details

Every month\, MenLiving invites a special guest into our Circle for connection and conversation. On April 12th at 7PM CT\, Cathy Adams will be joining us for a discussion entitled\, Why Did She Say That? Hearing and respecting the women and girls in our lives. Cathy will discuss why and how everyday communication can breakdown\, conversations that can lead to anger and frustration\, and how to show up and love in a way that can be felt and appreciated. Open to all genders.

Cathy Cassani Adams\, LCSW\, co-hosts the Zen Parenting Radio podcast and is co-founder of the annual Zen Parenting Conference. She's author of the multiple award-winning Living What You Want Your Kids to Learn: The Power of Self-Aware Parenting\, and the upcoming Zen Parenting published by Hachette Book Group. Cathy teaches in the Sociology/Criminology Department at Dominican University\, and she lives outside of Chicago with her husband Todd and their three daughters. 
Time

(Monday) 7:00 pm - 8:15 pm(GMT-05:00) View in my time
RSVP Now
RSVPing is closed at this time.
Guests List Attending 51
Anne PiotrowskiBeth FazzioBill HattendorfBill CherneBrad MacLeanCharles DuffyChris MunsonCraig DooleyDallas KentDan KempDawnelda McInnisDesiree Callistinidonald streckEric PannellErik TreeseGail KushinoJeremy SamatasKaren SKarl LaugerKarole Lakota-TreeseKatie gockenbachKelly KonkeyKevin DooleyKristen SolbergLaurie Lakota GudasLewis SchroederMarjorie CottrellMelinda DooleyMichele SiroisMike RosenMike PattersonMillie HsiMimi InahuazoMonika GlocknerPaige KnutsenPeggy JividenRebecca and Peter D'Amoreroham rafatSally O'NeillShaun Emersonsheila mccueSteve GeorgeSteven BaginskisTatiana Harutatodd adamsTodd AdamsTom McCueTony SchmidtTracey CollinsUlrich HenesVictoria Suthers
List of guests not attending to this event Not Attending 1
Scott McLaughlin
Can not make it to this event?Change my RSVP