thu13may7:00 pm8:15 pmEvent Over"Sleep Empowerment": how to take control of your sleep health and live betterA Virtual Meeting for Growth-minded Men7:00 pm - 8:15 pm(GMT-05:00) View in my timeZoom Virtual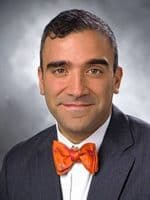 Event Details

Join sleep specialist Dr. Darius Loghmanee for an interactive discussion on how to reframe your relationship with sleep.  Darius will review healthy sleep dynamics and how to build sleep resilience to protect against insomnia. He will also take your questions about sleep disorders like sleep apnea\, daytime sleepiness\, restless leg syndrome\, and more….

Dr. Darius A. Loghmanee MD FAAP FAASM D.ABIM is the Director of the Children's Sleep Network at the Advocate Children's Hospital. He evaluates and treats the entire spectrum of sleep disorders across the Advocate and NorthShore Health Systems. Dr. Loghmanee received his medical degree from SUNY – Buffalo School of Medicine\, Buffalo; completed a combined residency in Internal Medicine and Pediatrics at Rush University Medical Center\, Chicago and; completed his fellowship in Sleep Medicine at the Rush University Medical Center\, Chicago. His primary area of focus is Pediatric Sleep Medicine and he is Board Certified in Pediatrics and Sleep Medicine through the American Board of Internal Medicine. 
Time

(Thursday) 7:00 pm - 8:15 pm(GMT-05:00) View in my time
RSVP Now
RSVPing is closed at this time.
Guests List Attending 11
Tony SchmidtTodd AdamsStephen HortonMike PattersonLiz PulciniErik TreeseDan silberbergCharse YunCharles Duffyashley izadiAmber Young
List of guests not attending to this event Not Attending 1
Jason Samatas
Can not make it to this event?Change my RSVP
Organizer
Frank Naugo fnaugo@gmail.com