MenLiving Music Hour: March Madness Experience
mon29mar7:00 pmmon9:00 pmMenLiving Music Hour: March Madness ExperienceFREE Virtual Meeting for anyone!7:00 pm - 9:00 pm(GMT-05:00) View in my time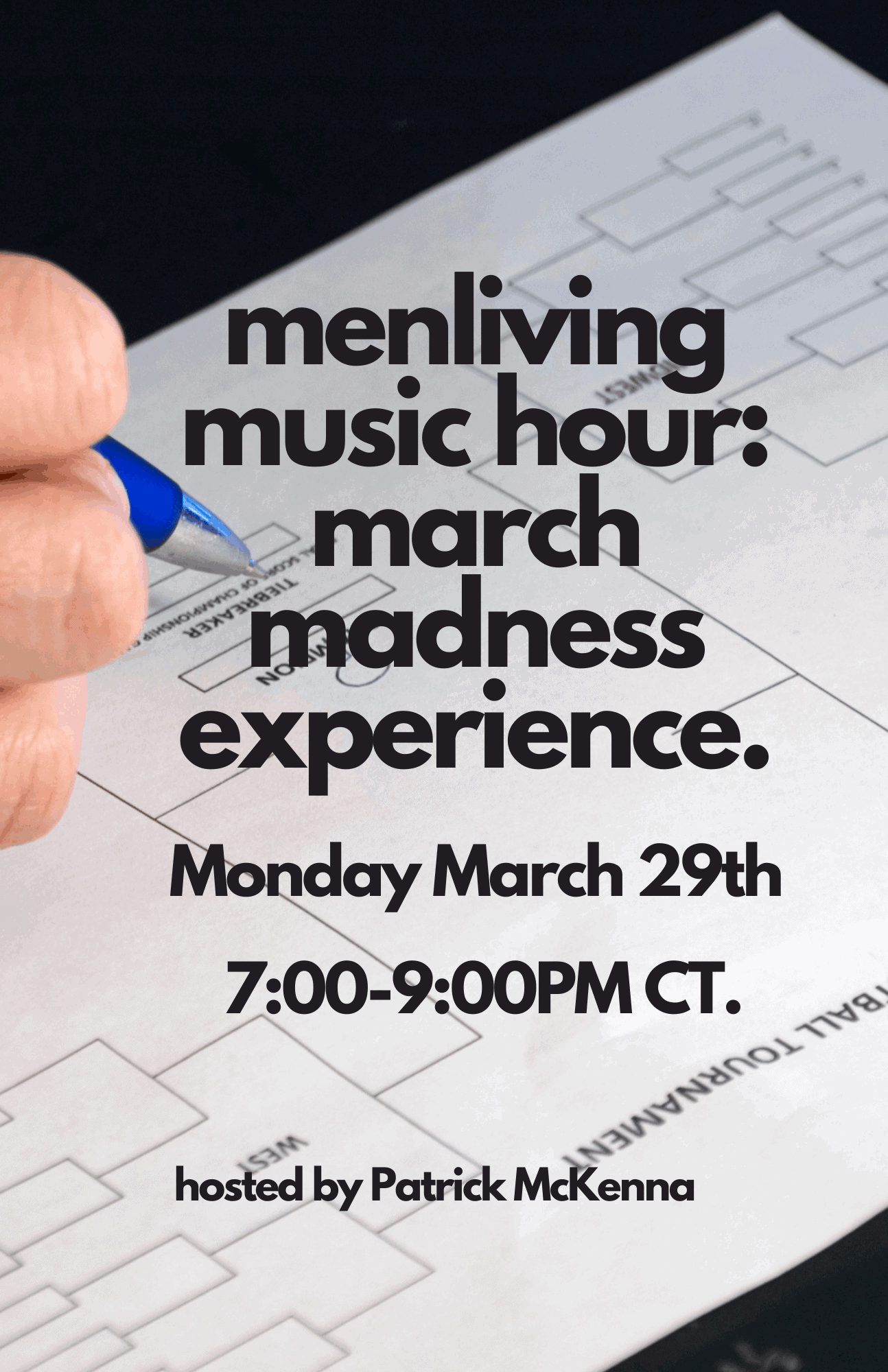 Event Details

Music Lovers! 

Come join us for the first MenLiving Music Hour: March Madness Experience. MenLiving has seeded 64 (65…There is a play-in matchup) of the top musicians/groups of all time. The list includes artists of different genres and eras. You may have some issues with who is included or who is missing. We are almost certain you'll have issues with the seedings. And that's when the fun starts! 

Fill out your bracket here. You'll find all the instructions on the spreadsheet\, but I am listing them here as well:

Once you're in the template\, do the following:
1. Go to File > Make a copy. 
2. Go to Share and add clozier@nctresidencies.org and pdmtzc@gmail.com. We will be aggregating everyone's brackets. 
3. Fill our your brackets by selecting from the dropdown menus. You will have to start with Round 1 and go round by round. 
4. Please offer some of your favorite songs by your Final Four selections in the green cells. You can enter the song name or a link to a particular version on youtube\, spotify\, or other streaming app.

Please share the link with anyone you think may be interested in the debate! All genders are open to participate.

On March 29th from 7-9PM CT\, we will listen to some great music and debate the artists and our selections. Anyone who has completed a bracket can join the experience.

NOTE: We recommend wearing good headphones for this session!
Time

(Monday) 7:00 pm - 9:00 pm(GMT-05:00) View in my time
Location

MenLiving Music Hour
RSVP Now
RSVPing is closed at this time.
Guests List Attending 9
Bill` HattendorfMatthew DolanPatrick McKennaPaul BorkowskiShaun EmersonSteven BaginskisTodd FrenchTom RichardsTony Schmidt
Can not make it to this event?Change my RSVP