Workshop – Choosing Love Over Fear: The 4 S Committee
wed17mar7:00 pmwed9:00 pmWorkshop – Choosing Love Over Fear: The 4 S CommitteeA Virtual Workshop for Growth-minded Men7:00 pm - 9:00 pm(GMT-05:00) View in my time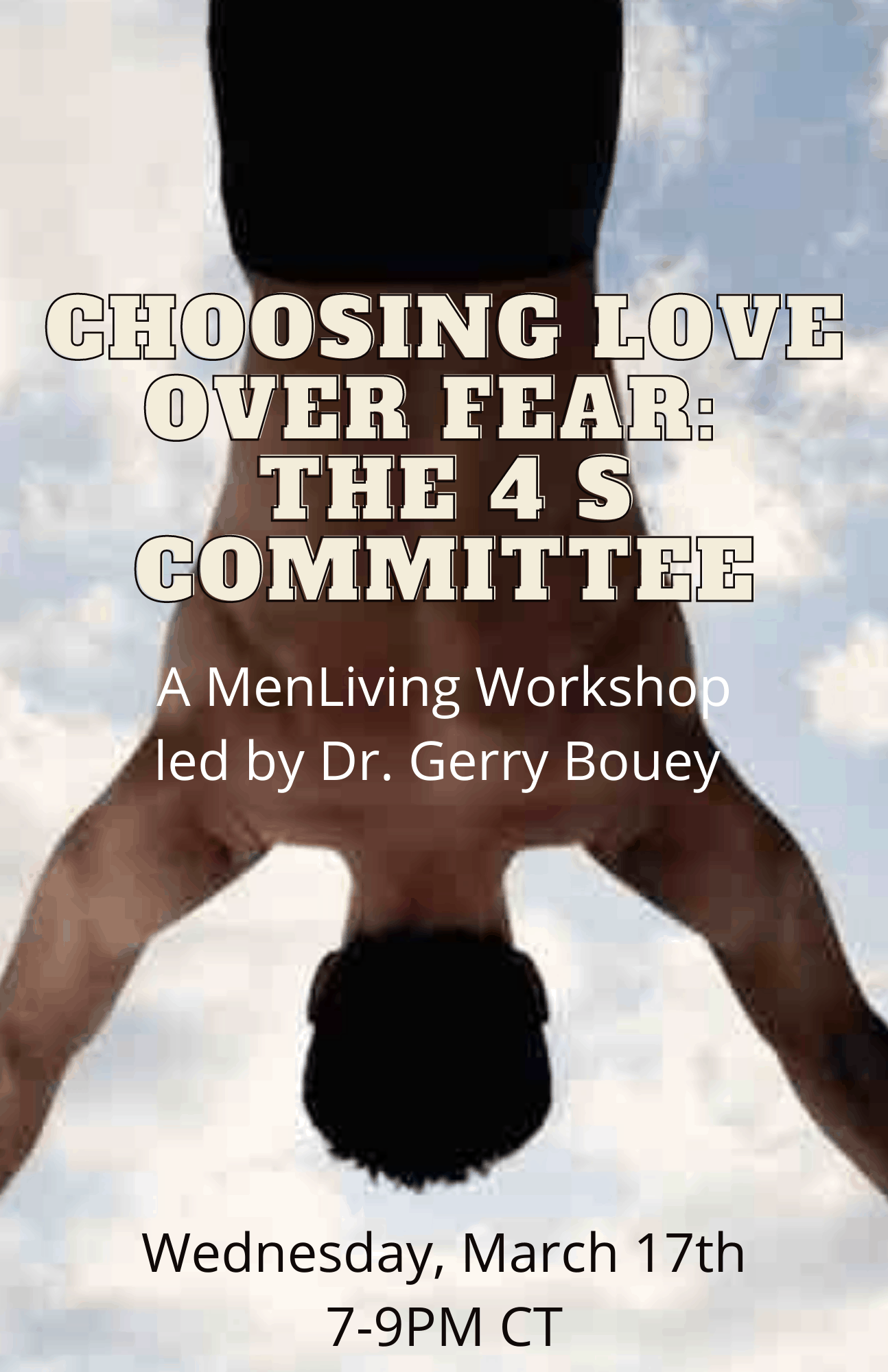 Event Details

Scientists have often asserted that humans are designed to always be on the lookout for threats. Our reptilian brain's automatic function triggers this mindset to protect us and create evolutionary survival. For the most part\, this instinct occurs to us as an acute fear. The challenge for most of us is not to let this acute fear become chronic.

If that is true\, how can we become more 'alive\,' generative\, and productive? This workshop will give participants a reflective experience to develop a practice for overcoming this instinctual process (not eliminate). Although this is only an introduction\, authentic engagement in the dialog in this session will begin awakening to the energy love. At the very least\, participants will walk away with a strategy to mitigate the struggles life produces\, generating chronic fear. You will experience what it takes to navigate to a more generative\, positive outcome and experiences. It will help deal with struggles\, things to let go of\, the anxiety it causes as a result of letting go and accepting the gift of life\, which can be experienced as love.

Essentially you will be guided on how easy\, yet challenging\, it is to choose love over fear.

Struggles – What are we struggling against?

Sacrifice – What behavior\, mindset\, way of being must we let go of?

Suffering – Why can suffering seem so intense\, and how can we think about it differently?

Surrender – How do we position our mindset\, mental condition to receive what life has for us?

This workshop was created and will be led by Dr. Gerry Bouey. You can learn more about Dr. Bouey's background and experience here.
---
If you are interested\, RSVP below. 
It is FREE for MenLiving Members and $30 for non-members. Non-members\, after you RSVP make sure to purchase a Meeting pass using the link below or within the RSVP confirmation email.
Time

(Wednesday) 7:00 pm - 9:00 pm(GMT-05:00) View in my time
RSVP Now
RSVPing is closed at this time.
Guests List Attending 26
Aaron KahlowALAN KAYAndre BoueyBill CherneBill HattendorfCharles DuffyDan SilberbergDaniel MaziarzDave NashDean DonnellyDev Anand JaiveerrajanDraylon YoungEdward GudasEdwin WaltersErik TreeseHerbert SherrodKevin DooleyKyle MitchellMichael NosekMichael EatmonMike RosenMike KordellShaun EmersonTodd FrenchTony SchmidtUlrich Henes
Can not make it to this event?Change my RSVP
Cost Details
FREE for MenLiving Members. $30 for non-members.