Workshop – The Science and Practice of Breathing
wed02dec7:00 pmwed9:00 pmWorkshop – The Science and Practice of BreathingA Virtual Workshop for Growth-minded Men7:00 pm - 9:00 pm(GMT-06:00) View in my time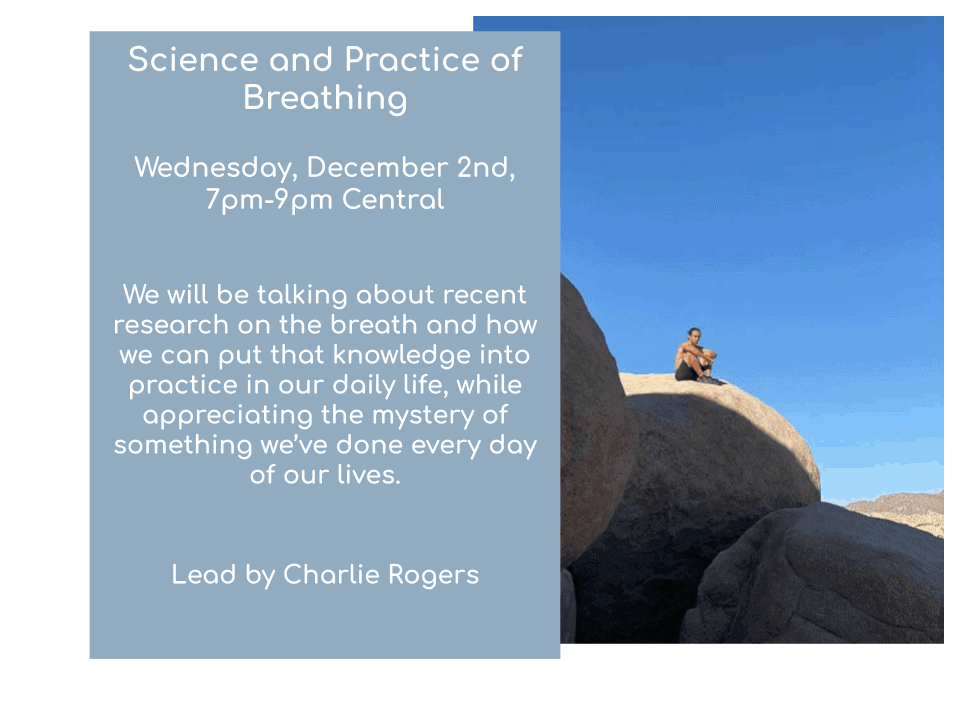 Event Details

We will be talking about recent research on the breath and how we can put that knowledge into practice in our daily life\, while appreciating the mystery of something we've done every day of our lives.

This workshop is Wednesday\, December 2nd from 7-9PM CT and will be facilitated by Charlie Rogers who runs our Intentional Movement Classes.

Charlie\, a 20-year-old attending Fort Lewis College\, is passionate about understanding human health and movement. He has spent the past five years committed to diving into many different movement modalities in hopes of developing a deeper knowledge of the human body. A few of the modalities he has spent time practicing include trail running\, powerlifting\, calisthenics\, rock climbing\, gymnastics\, parkour\, breathwork\, and meditation. He also spent last year coaching at a local gym in addition to traveling to several movement workshops and certifications across the country to learn about mobility training\, natural movement\, and using movement as a tool for self-understanding. All of this has lead him back to school studying exercise physiology with an interest in physical therapy. His philosophy is that play is the goal and formal training is a tool to take care of your body and keep you doing what you love most.

This workshop will take place virtually over Zoom.
---
If you are interested\, RSVP below. 
It is FREE for MenLiving Members and $30 for non-members. Non-members\, after you RSVP make sure to purchase a Meeting pass using the link below or within the RSVP confirmation email.
Time

(Wednesday) 7:00 pm - 9:00 pm(GMT-06:00) View in my time
RSVP Now
RSVPing is closed at this time.
Guests List Attending 19
Andy McEvoyAnthony MolinaBill HattendorfBill ChaneyBilly LitgenCharlie RogersCharlie GardnerChris Lozierfrank naugoJustice NerenbergKevin RogersKyle MitchellMike RosenPete HerrnreiterShaun EmersonTodd FrenchTodd AdamsTom RichardsTom McCue
List of guests not attending to this event Not Attending 3
Edward GudasErik TreeseRyan Bond
Can not make it to this event?Change my RSVP
Cost Details
FREE for MenLiving Members. $30 for non-members.