Regular Guys make Friends on

MenLiving Connect
We believe that our quality of life is connected to the quality of our relationships. Men with strong friendships live longer, happier, healthier, and more productive lives.  
We're making it easier to grow your circle of friends
MenLiving Connect is a friend-forward social technology platform that helps you connect with guys from all around the world. All you need to complete a profile is an email and 10 minutes … there is no pressure and no requirements. We'll show you suggested connections and let you know what you have in common.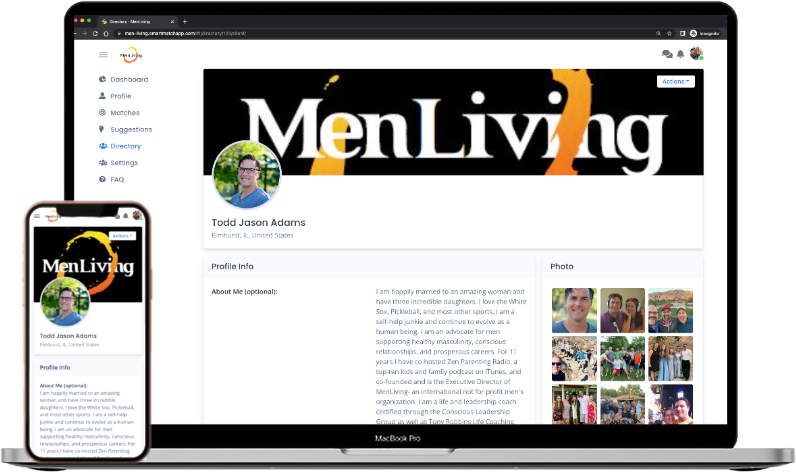 What MenLiving Connect is
Connected
Choose how you connect – one-on-one, in the platform, on social media, via email – its up to you
Supportive
Our goal is to provide support to all men.
Respectful
This is a space for anyone, across the globe, who identifies as male. 
It takes less than 10 minutes to complete your profile & get started
Receive Friend Suggestions
Check your inbox for profiles of suggested connections
Start conversations on the Connect App within your web browser
Explore the Full Directory
Learn more about the regular guys using MenLiving Connect
You might not vibe with everyone on the platform – and that is ok! But we're committed to community and respecting everyone is crucial to that goal.
What MenLiving Connect is not:
What men are saying about MenLiving Connect …
"I love using MenLiving Connect. It's a wonderful tool to further connect with other men where I can see what interests we may share but also engaging in some new interests that someone else may have more experience with."

Jason S.
"Connect showed me guys I might like to dive deeper with, and it even offered to introduce me. MenLiving is my circle, but its size can make it hard to see who's in it. Connect helps me see the other guys in the circle—and reach out to them—no matter the miles or time zones between us."

Michael E.
"I had hesitation joining Men Living Connect because of my dislike of social media platforms (no facebook, instagram, twitter, etc.), but, I believe this platform can help me grow friendships. The profile was easy to set up and it was fun to explore and celebrate the similarities and differences in this community!"

Kyle M.
FAQ About MenLiving Connect